With nearly 200 sun-filled days in Southern Oregon annually, who wouldn't want a little extra recreation area in their backyard?  Hardscape materials create beautiful environments for patios, outdoor kitchens, and seating around fire pits, but they can also enhance the look and feel of other functional areas.  For example, natural stone will enhance a backyard putting green and making you feel you're practicing your golfing skills in luxury.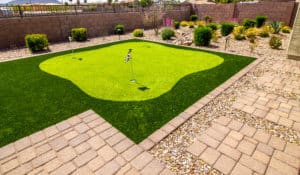 Building a backyard putting green requires a few steps, but with patience, it is something every homeowner can conquer.  As a result, you'll spend more time enjoying your outdoor area and may even get your kids interested in a new sport.
How to Build a Backyard Putting Green
Choose your materials. 

The easiest way to construct and maintain a putting green is by using artificial grass.  Today's options look realistic and provide a consistent surface for practicing your putts.  Live grass requires constant manicuring, fertilizing, and watering.  Spending a little more money on artificial turf frequently pays off in the long run.

Plan the location.

 Before a single tool comes in contact with the ground, you should have a complete plan for the size, shape, and location of your putting green.  You'll need a somewhat flat area, and it's a good idea to observe it for a few days to see how the sun and shade impact it.  Ideally, the site should have good drainage and not be close to trees with damaging roots.  Look online for ideas for shapes or talk with the professionals at a local golf course.  Consider if you want a second fringe area to practice chipping around the circumference of the green.  You can use landscaper spray paint to sketch out the area on the grass before you begin excavation.

Coordinate your projects.

 Work with the experts at Hilton Landscape Supply to plan out the stone or paver patio around the putting green.  They will help you figure out the correct order to

complete the

deck and putting green projects in your yard.

Check for underground utilities.

 Before you start digging, contact your utility companies and have them locate all underground wires and pipes.  

Excavate.

  Use a shovel to define the border.  Dig out 4 inches of ground from the area.  Tamp down the dirt to flatten it for a smooth base.  Cover with landscaping fabric to prevent weeds from growing into the green.

Install a sub-base. 

Use fill sand or decomposed granite to fill the area.  Many types of crushed rock or limestone will work as long as pieces are no bigger than ¼ of an inch (¼" minus.)  Smaller, finer pieces of stone will compact more solidly.  It is essential to use rock that is not washed.  The professionals at Hilton Landscape Supply can calculate how much rock you will need based on the square footage of the excavated area.  Use a 6-foot level to scrape the top and ensure the surface is level.  Once installed, wet the rock slightly with a garden hose and compact the area with a tamper.  A rented tamper will work much better than a hand unit.  Continue to make sure the surface remains level. 

Install the turf.

  Read the directions for the artificial turf to determine if you need to pre-shrink it or any other pre-installation treatment.  Lay the fabric over the prepared area and use a utility knife to trim off any extra material outside of the green.  Secure the edges with landscape staples or nails at two-inch intervals.  

Place the cups.

  Carefully use the knife to cut the holes for the cup and secure the borders.  Use a trowel to dig holes and insert the cups.  Make sure they are level.  Tamp the ground around the cups with a hand tamper. Secure the edges with landscaping nails.
If you've got big plans for improving your backyard, start with a visit to Hilton Landscape Supply.
Creating a beautiful outdoor living area should be fun, and we're here to help you create the masterpiece you've been dreaming of.  Our professional team at Hilton Landscape Supply can help you outline your project and select the best materials to do the job.  You'll find a wide variety of boulders, slabs, and rocks in our inventory to create the perfect oasis for your property.  We'll even deliver your materials right to the worksite.  Visit us today to learn more about the possibilities.