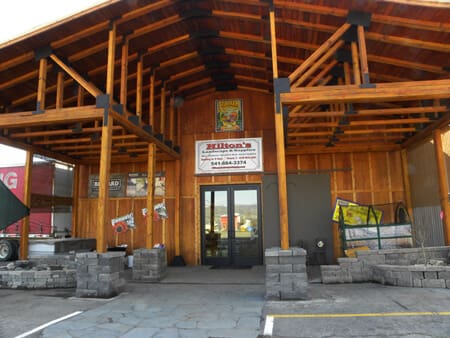 Our new Garden Center is open and ready to help with all of your garden, lawn, and landscape needs.
If you haven't been in to see us yet, please stop by soon. We're just off I5
Have a question about gardening, a problem with your garden, or just want to know how to grow the perfect string bean? We recommend the Rogue Valley Gardener.
Have a question about us or our products? Call us at 1-800-632-1510 or email us at info@hiltonlandscaping.com.
Brooms
Fruit Picking Poles
Garden Cultivator
Gloves
Hoes
Lawn Edgers
Planting Tools
Post Hole Diggers
Pruning Tools
Rakes
Rental Equipment
Shovels
Sprayers & Misters
Tree Pruners
Weed Pullers
Wheel Barrows
Cans
Hoses
Nozzles
Soakers
Sprayers
Sprinklers
Timers
Bird Baths
Bird Houses
Bungee Cords
Eco-blocks (concrete barriers - 3 typesshown)
Garden Kneelers
Greenhouses
Livestock Dust
Outdoor Thermometers
pH Kits
Plant Caddies
Plant Stands
Rainfall Gauges
Rock Fountains
Seed Spreaders
Tarps
Tree Wraps & Ties
Wood, Bamboo & Steel Stakes
Fertilizers
Flower Seeds
Grass Seed
Lawn Food
Plant Food
Planting Mix
Potting Soil
Soil Conditioner
Vegetable Seeds
Filters
Liners & Tape
Pumps
Animal Repellant
Bird Fence
Deer Fence
Deer and Rabbit Repellant
Dog and Cat Repellant
Fly Traps and Attractant
Fruit Tree Spray (AKA: orchard spray)
Fungicides
Garden Shade Cloth/Sail
Gopher Traps
Grass Killers
Horticultural Spray Oil
Insect Control
Mole and Gopher Sonic Spikes
Moss Control
Mouse Bait
Rose Fungicides, Insecticides and Miticides
Scarecrows
Slug and Snail Bait
Wasp and Yellowjacket Traps
Weed Barrier Cloth
Weed Killers
Yard and Garden Cover
Fertilizers
Grow Bags
Grow Lights
Hot Houses
Meters for soil and moisture
pH kits
Plantium medium
Seed Starters
Timers/ The Twister
and much more
Here are some of the suppliers whose products we are carrying.
Click on their logos to be taken to their sites.