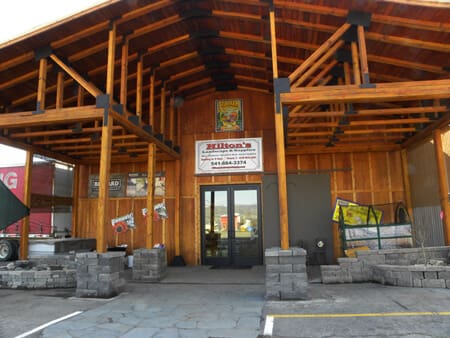 Our new Garden Center is open and ready to help with all of your garden, lawn, and landscape needs.
If you haven't been in to see us yet, please stop by soon. We're just off I5
Have a question about gardening, a problem with your garden, or just want to know how to grow the perfect string bean? We recommend the Rogue Valley Gardener.
Have a question about us or our products? Call us at 1-800-632-1510 or email us at info@hiltonlandscaping.com.
Brooms
Fruit Picking Poles
Garden Cultivator
Gloves
Hoes
Planting Tools
Pruning Tools
Rakes
Shovels
Tree Pruners
Weed Pullers
Bungee Cords
Eco-blocks (concrete barriers - 3 types shown)
Livestock Dust
Rainfall Gauges
Tarps
Tree Wraps & Ties
Wood, Bamboo & Steel Stakes
Fertilizers
Lawn Food
Plant Food
Planting Mix
Potting Soil
Soil Conditioner
Cashmere 40 in-stock
Synthetic Grass Warehouse: Special Order Only 
Here are some of the suppliers whose products we are carrying.
Click on their logos to be taken to their sites.