To estimate how much flagstone, strip stone or wall rock will cover a certain area:
Flagstone & Rock Material Coverage Chart

Type of stone

Area Covered
Per Ton of Material
Flagstone ⅜" - ⅝" thick
400 sq. ft.
Flagstone ⅜" - ¾" thick
250 sq. ft.
Flagstone ¾" - 1 ¼" thick
175 sq. ft.
Flagstone up to 1½" thick
120 sq. ft.
Flagstone up to 2" - 2¼" thick
80 sq. ft.
2" - 4" rock
60 sq. ft.
4" - 8 " rock
40 sq. ft.
4" strip stone
55 sq. ft.
8" wall rock
20 sq. ft.
These conversions are approximate and are for only the categories listed.
To estimate how many yards of material you will need for your landscaping or gardening project, click here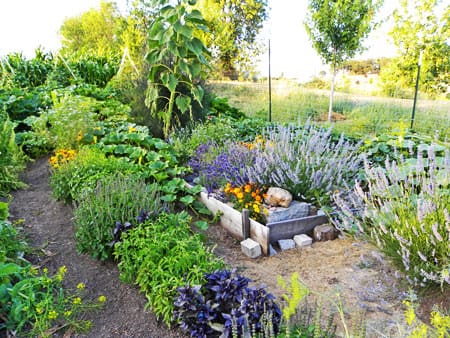 This Garden Solutions page is here to help with your gardening questions.
One resource is our Frequently Asked Questions page. We will update this page on a regular basis.
If you have a question that is not answered by our FAQ, please call us at 541-664-3374.
Have a question about gardening, a problem with your garden, or just want to know how to grow the perfect string bean? We recommend the Rogue Valley Gardener
If you haven't been in to see us yet, please stop by soon. We're just off I5.
Depth Key Code
| | | |
| --- | --- | --- |
| Inches | = | Value |
| 1" | = | 12.00 |
| 2" | = | 6.00 |
| 3" | = | 4.00 |
| 4" | = | 3.00 |
| 5" | = | 2.40 |
| 6" | = | 2.00 |
| 7" | = | 1.71 |
| 8" | = | 1.50 |
| 9" | = | 1.33 |
| 10" | = | 1.20 |
| 11" | = | 1.09 |
| 12" | = | 1.00 |
| 13" | = | 0.92 |
| 14" | = | 0.86 |
| 15" | = | 0.80 |
| 16" | = | 0.75 |
| 17" | = | 0.71 |
| 18" | = | 0.67 |
| 19" | = | 0.63 |
| 20" | = | 0.60 |
| 21" | = | 0.57 |
| 22" | = | 0.55 |
| 23" | = | 0.52 |
| 24" | = | 0.50 |