Tired of Paying to Water Your Lawn?  How About Xeriscape?
For many homeowners, watering the lawn makes a significant impact on monthly utility costs.  Americans spend an average of $12.00 just to apply 1 inch of water to a 100' by 100' yard.  Keeping that grass adequately watered throughout the summer can cost anywhere from $50 to $156 a month.  If you're fed up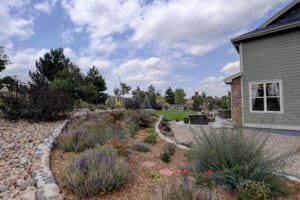 with the additional costs of watering, fertilizing, and maintaining your lawn, perhaps it's time to consider xeriscape.
Xeriscaping is an outdoor landscape design that eliminates or significantly reduces requirements for irrigation.  Homeowners that choose this type of design rely on natural climate conditions to care for space.  While xeriscaping has been popular in dry, hot regions of the United States such as Southern California, Arizona, Nevada, and New Mexico, homeowners in all states are starting to consider this option to conserve valuable potable water and save money.
Xeriscaped yards typically include the following elements:
Choose native plants and trees.  Selections often include evergreen trees, ferns, rhododendrons, daffodils, and various wildflowers for the Pacific Northwest.  In the Southwest, drought-tolerant plants such as cacti, agave, juniper, and lavender are trendy choices.  To get an idea of what plants might work well in your xeriscaped yard, venture to a hiking trail near your home to see the types of plants that grow naturally without human intervention.
Use irrigation designed for maximum efficiency.  For the limited amount of vegetation that may still require some irrigation, owners use efficient methods such as drip lines and soaker hoses.  These systems direct water to the plant and eliminate unnecessary loss or evaporation of water.
Ensure the ground is sloped appropriately.  Since water will drain more quickly through rocks and gravel, it's essential your yard doesn't have valleys to collect water and that it is sloped away from the home.
Select complementary rocks to serve as ground cover.  Depending on your location, materials such as crushed river rock, red cinder, Sonoma gold, or black cinder work well for large areas.  You can use borders to separate different types of stone to create patterns and walkways.
Add interest to the landscape with large boulders, fountains, or sculptures.  With outdoor lighting, it's easy to accentuate these features to enjoy the yard during evening hours.
Not ready to transform the entire yard to xeriscape?
You don't need to reconfigure the entire yard to take advantage of xeriscape benefits.  Many homeowners use xeriscape in a portion of their yard.  Rock gardens create interest while reducing the homeowner's responsibilities for maintenance and watering.  Whether you want to transform a small piece of your yard or your entire outdoor living space, there are no limits to what you can do with xeriscape.
Need help getting started?
Hilton Landscape Supply carries all your outdoor needs for traditional landscape, hardscape, and xeriscape.  Visit our online galleries or stop by our supply yard to see all the materials available to bring your landscaping dreams to life.  Our team will work with you to determine the best materials for your job.  We'll even deliver your product to your home!  Stop by today to see how easy it is to get started.