Creating a beautiful and long-lasting patio or walkway starts with a solid foundation. Paver sand plays a crucial role in ensuring your project stands the test of time. This article explains how to use paver sand underneath flagstones and pavers correctly to ensure the longevity and durability of your landscaping features.
Why Paver Sand Matters
Paver sand is not just any type of sand; it's specially designed to serve as the foundation for your flagstones and pavers. It plays a vital role in enhancing the stability, durability, and overall aesthetics of your outdoor space. Here are a few reasons why it's important to use paver sand correctly when installing patios and walkways:
1. Even Distribution: Paver sand helps distribute the weight of your flagstones or pavers evenly, preventing uneven settling and reducing the risk of cracks or shifts in your patio or walkway.
2. Drainage: Properly graded paver sand allows water to drain away from the surface, preventing water pooling that can damage your stones and promote weed growth.
3. Weed Prevention: Paver sand creates a barrier that discourages weed growth between your flagstones or pavers, keeping your outdoor space looking pristine.
4. Easy Maintenance: Using the correct paver sand makes it easier to replace or reposition stones if needed, reducing future maintenance headaches.
Selecting the Right Sand
Did you know that there are different types of sand designed for a variety of purposes? It's important to choose the right sand for your project. For example, playground sand is ground very finely and does not contain silica to make it a smooth, safe material for children or sports like beach volleyball. However, playground sand does not hold up well under flagstones or pavers.
Instead, you should choose a product labeled as paver sand. Paver sand is typically made of fine-grained sand particles. It is designed to create a stable and level base for laying pavers or stones. Paver sand may also contain small amounts of clay or silt to improve its binding properties. The primary purpose of paver sand is to provide a level and stable foundation for the stones or pavers. It helps distribute weight evenly, prevents settling, and provides a smooth surface for the stones to rest on. Paver sand does not harden or solidify on its own.
You can go one step further and choose a polymeric paver sand. Polymeric sand is simply sand blended with polymers that act as bonding agents. The polymers activate and help bind the sand particles together when properly installed. It's highly durable and will resist erosion, which is essential underneath and between paving stones. Polymeric sand also has the benefit of discouraging plant growth, which may help keep your paver patio looking new for a longer time.
Read more about the five most popular types of sand you'll find in stores in our article: "What Kind of Sand is Best for Your Project."
How to Use Paver Sand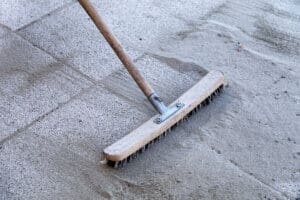 Now that you've chosen the right paver sand, let's walk through the steps to use it correctly underneath your flagstones and pavers:
1. Excavate the Area: Begin by excavating the area where you plan to install your patio or walkway. Remove any existing turf, soil, or debris, ensuring that you reach the desired depth for your base. Read the remaining directions to calculate how deep you'll need to excavate to allow room for a proper foundation.
2. Create a Solid Base: To establish a strong foundation, add a layer of crushed stone or gravel (typically 4-6 inches deep). Add 2-3 inches of stone or gravel at a time, and use a plate compactor to firmly press it to prevent future settling. It may be difficult to try to compact more than 3 inches of gravel or stone, so breaking it into two layers creates better results.
3. Add a Layer of Geotextile Fabric: Some landscapers choose to add a layer of geotextile fabric over the compacted base. This fabric helps prevent weed growth and keeps the layers separated. Talk with the experts at Hilton Landscaping Supply to decide if you should include landscaping fabric in the foundation of your project.
4. Spread the Paver Sand: Spread a 1-inch layer of paver sand evenly over the base or geotextile fabric. Ensure that the sand is consistently level and smooth. An easy way to do this is to lay two pieces of 1-inch PVC pipe on each side of the area. Add the sand between the two pipes and then use a 2X4 or other straight edge across the two pipes to level the sand.
5. Begin Laying Your Flagstones or Pavers: Carefully place your flagstones or pavers on top of the paver sand. Start from one corner and work your way across the area, maintaining the desired pattern and spacing. Many homeowners will lay out flagstones in another section of their yard first to determine the best fit and look of their natural stones. After creating the ideal layout, they will then move them piece by piece to the final site.
6. Fill the Joints: After all the stones or pavers are in place, sweep additional paver sand over the surface. Use a broom to work the sand into the joints between the stones or pavers.
7. Compact the Surface: To further settle the sand and secure the stones or pavers in place, use a plate compactor or tamper to gently compact the surface. Add more sand as needed to ensure all joints are properly filled.
8. Final Sweeping and Watering: After compaction, sweep any excess sand off the surface. Then, lightly mist the entire area with water to activate the bonding agents in polymeric sand if you've chosen that option.
Ask our team for more help with how to use paver sand.
Using paver sand correctly underneath flagstones and pavers is essential for creating a sturdy, long-lasting, and visually appealing patio or walkway. However, if you are left with more questions, our team is here to assist you along every step of your landscaping project. With help from our team at Hilton Landscape Supply, you'll be well on your way to enjoying a beautiful outdoor space that can withstand the test of time.