Hardscape Materials Can Give Your Driveway a New Look and Increase Your Home's Value
When planning your landscape and hardscape plans for your home, don't forget about hardscape materials for your driveway! Driveways serve a very functional purpose, but that doesn't mean they have to be conventional and boring.  Depending on the slope of your yard, the length of your driveway, and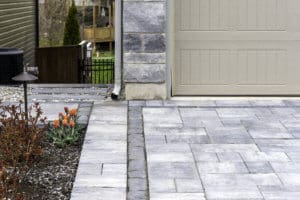 how you use this area, there are many options for making this part of your home as beautiful and attractive as the rest of your yard.
In fact, curb appeal can really impact your home's value.  The Wall Street Journal previously reported that spending 5% of a home's current value on low-maintenance, high-quality landscaping could boost the home's value by 15%–that's a 150% return on investment!
Concrete. For most suburban homes in Southern Oregon, concrete is the standard material for driveways.  Concrete is very durable and easy for homeowners to maintain.  However, there are ways to make your concrete more unique.  Using stampers or staining the concrete will help it complement the look and feel of the rest of your home.  Cement can easily be poured into various shapes and bordered with decorative rock for an artistic appearance.
Pavers. Imagine your home with a traditional cobblestone or brick driveway.  Driveway pavers have a very dignified and solid appearance that shows how much you value your home.  The most common types of pavers include brick, concrete, porcelain, cobblestone, marble, bluestone, flagstone, and travertine.
Cobblestones were initially used in the construction of roads because of their extreme durability, and the overall structure can flex during harsh winter temperatures.  Bricks are not as durable but do work well in some regions of the country.  For homeowners who have renovated older homes, driveway pavers tie in the house's overall theme to the yard.
Gravel. Rural dwellers tend to have longer driveways, and gravel is the most economical solution for these homeowners.  Today there are multiple options available in different colors to spruce up the driveway.  Gravel is easy to maintain, although it does require occasional regrading and recovering.  Gravel is a sturdy material to use around shop buildings and garages to allow easy access and storage of farming equipment, hobby projects, and other heavy-duty machinery.  It's also a bit challenging for those that live in regions with deep snowfall since it's harder to plow without also removing the rock.
Are you thinking about renovating your driveway?
Let our team at Hilton Landscape Supply help you design an incredible driveway that meets all of your needs.  Simply show us pictures and measurements of the area.  We'll discuss the options we have to create a stunning and functional driveway for your home.  Our professionals will also make sure the foundational materials are adequately planned, and drainage solutions are considered so your final product will stand the test of time.  Give us a call or stop by today to get started!