How to Build a Hardscape Bench
Adding a hardscape bench to your landscape is a great investment.  These seating areas create more functionality to your outdoor area, help to define spaces, increase your enjoyment of the outdoors, and add value to your home.  Unlike other outdoor seating options, hardscape benches require less maintenance–they don't need to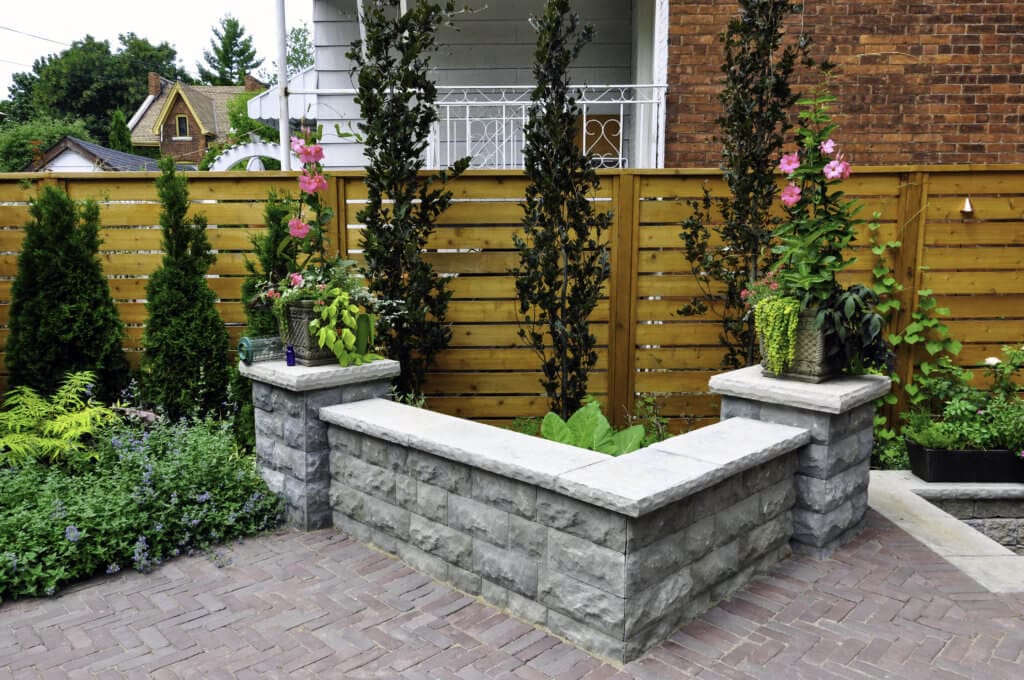 be disassembled and stored over the winter.
Are hardscape benches difficult to construct?
It's really very simple to build a beautiful bench from concrete blocks, bricks, or stone.  The biggest skills you will need are patience, precision, and, depending on your material–a bit of muscle power.  The steps to building a solid structure are very similar to constructing a patio, except that you will build upwards rather than outwards.
Start with a solid, level foundation.  Because all the weight of the material will be settling down onto the ground, you must begin with a good base to prevent rocks from drooping or falling over.  First, simply set out your first layer of material to determine overall size and shape.  When satisfied, lightly dig around the bricks to create a line illustrating your border.  Take out the material and then dig about 2 inches into the ground.  Once the area is clear and level, tamp the dirt down.  Fill it with crushed stone covered with a layer of sand.  Again, ensure the material is level and tamp it down.  Once solid, recheck it to make sure it's level.  The theme in this step is all about being level!
Set down your first layer of material.  The edges should butt up against each other closely.  Use a mallet to make sure the stones are sitting solidly on the foundation.  Check that the rocks are level from side to side and front to back.  Spending more time to make sure they are perfectly level will help your structure withstand the test of time.
Set down your second layer.  Placing the stones in an offset pattern will increase their stability.  Cut any blocks that need to be sized.  Once you're happy with the layer, use a landscape block adhesive to secure the second layer to the first.  Use the mallet to make sure the stones are secure, and yes–check to make sure everything is level.
Continue to build your layers to about 16 to 18 inches in height.  Check each layer to ensure they are snug, level, and square with the previous layers.
Finally, set your capstones on the top.  Wide paving stones make solid, flat surfaces for the top of your bench.  Once happy with the fit, use the landscape block adhesive to secure these to the top of the blocks.
Where can you find the best materials for your landscaping needs?
Stop by and visit our professionals at Hilton Landscape Supply.  We'll help you decide on the best materials to construct a hardscape bench in your backyard.  Once selected, our crew can also deliver the materials directly to you to make your job a little easier.  Give us a call or stop by today to get started!