Are you dreaming about sun-filled afternoons and poolside relaxation?  Now's the time to upgrade your outdoor entertainment zones with a new hardscape.  Why have a dull, concrete deck area when you can optimize the next few months and create a vision of serenity and luxury installed in your backyard? Isn't it for customizing your pool with hardscape?
Hardscape Options for Pool Patios
Pavers.  Pavers set your outdoor area apart from other areas with beautiful patterns, colors, and textures.  They'll give your site an added level of sophistication to transform it beyond just function.  Pavers come in various shapes and sizes, and the landscape supply design team can help you decide between simple stacked bond patterns to herringbone, basketweaves, or something more complex like the Holland combination.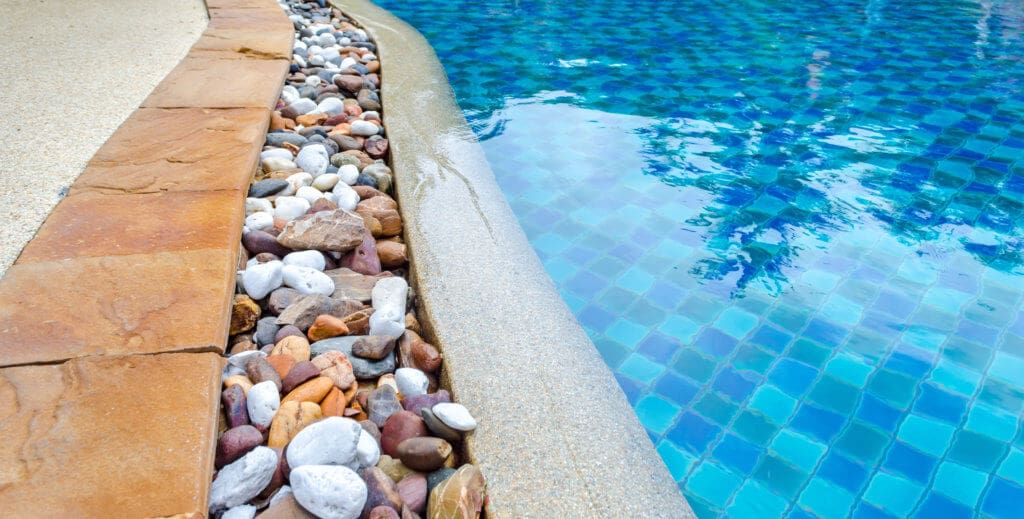 Pavers are relatively easy to install.  Creating a good foundation with a layer of tamped gravel and ensuring the ground is perfectly level will help these bricks hold up for many seasons.  If an area becomes stained or damaged, it's simple to remove and replace the problem pavers.
Natural Stone.  The variety of natural stones available allows homeowners to design custom environments from sleek and modern to ruggedly wild and desert-tranquil.  Granite, bluestone, and flagstone will cost more than pavers; however, the value added to the outdoor space exceeds the sticker price of the materials.  Natural stone is the most durable material you can install and will provide your pool with a stunning, natural look to complement your complete landscape design.
Natural stone is a little more complex to install because each stone is uniquely shaped–both in circumference but also in depth.  The foundation for natural stone is similar to that required for pavers, but each rock may need individualized adjustments to keep the final surface smooth and level.  Natural stones are purchased by the ton, so the final design will depend on the variety of materials included in the delivered pallet.
Maintaining Hardscape Around the Pool
The deck area surrounding a pool can quickly become wet and slippery.  Because these areas are also used by guests who may be running, jumping, or simply not paying attention to the damp ground, it's essential to keep them maintained well to limit slips or falls.
First, deck areas should be swept or blown off regularly to remove dirt, leaves, or other debris.  As this material becomes moist, it will stick and decay, which can make the hardscape slippery.   Next, homeowners should regularly clean pavers and natural stone according to the landscape supply's recommendations for the specific material.  Doing so will help prevent algae and moss from taking residence in the crevices.  Lastly, if the hardscape is still too slick, several products on the market can be applied to hardscape material to increase traction without discoloring the rock.  Talk with your local hardscape supplier for more information.
Find the perfect pavers or natural stone for your pool patio at Hilton Landscape Supply.
Adding a beautiful, hardscape patio to your pool will add enjoyment and value to your home.  Our professional team at Hilton Landscape Supply can help you outline your project and select the best materials to do the job.  We have everything you need to construct your outdoor hardscape project professionally.  We'll even deliver your materials right to the worksite.  Visit us today to learn more about the possibilities for customizing your pool with hardscape.