Coco Fibers – A Healthy Alternative for Your Gardening Needs
If you're into gardening and composting, you have a wide variety of materials available to accomplish the job.  One alternative growing in popularity is coconut coir.  As the name implies, this material is comprised of waste material from coconuts.  By using it for gardening purposes, every bit of the coconut fruit is put to use.
Coconut coir is super absorbent.  It is often combined with sandy soil to even out excess drainage.  When mixed with potting soil, the coir will help keep plants and their roots adequately watered.  For these reasons, coir is also a popular material for hydroponic gardening.
Coco Fibers
The outside "hair" of the fruit is called coconut fiber (coco fiber for short) and is used for a variety of purposes including being pressed into bowl shapes for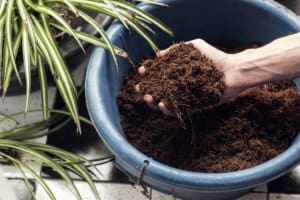 hanging baskets, manufactured into mats and brushes, and mixed with soil and other waste material as a mulch.  Coco fibers are a great alternative to add to gardens and compost bins as a replacement for other materials such as leaves or bark mulch.
Coco Peat
The outer layer of the coconut is further ground into chips or peat.  This type of material is frequently used in a mixture for potted plants and raised gardens.  It can also be added directly to the ground soil to amend and improve its conditions.  A good sample mixture for potted plants is 1/3 coir to 2/3 potting soil.
Coco peat can be purchased in dehydrated and compressed bricks or ready-to-use bags.  While the bricks require a little extra time and effort for rehydration, the process is simple and makes purchasing and transporting the product extremely efficient and easy.
Why shouldn't you plant in 100% coconut coir?
Coconut coir has no nutritional value on its own.  Farmers who plant in 100% coconut coir must feed their crops with a liquid fertilizer routinely, as the plants will receive no nourishment from the coir.
Why choose coconut coir?
Coconut coir is made from renewable material and makes use of parts of the fruit that would otherwise go to a landfill.  It can be used in place of peat moss, which is a non-renewable material derived from peat bogs.
Water retention. This material holds 30% more water than peat to provide plants with a continual supply of moisture.
Coconut coir mixes well with a variety of types of soil from sand to clay to improve its overall quality and drainage.
Good pH for growing. The pH for coir is between 5.5 and 6.8—the perfect amount for non-acid-loving plants.
Carbon-rich. The carbon content of coir helps to balance nitrogen-rich materials such as grass clipping and food waste.  For best composting, add coir to the compost collection area in a ratio of two parts coir to one part green material.
Before you head to the garden, stop by Hilton Landscape Supply.
We're not only your local supplier for the best, natural hardscape materials—we also carry a full selection of gardening materials perfect for the Southern Oregon Valley.  Our retail outlet stocks fertilizers and nutrients for plants, lawns, and flowers; insect and pest repellant and control; weed and grass control; and cannabis growing supplies.  Let our team of professionals at Hilton Landscape Supply help you get your garden started off right.