Choosing natural stone and rock not only creates beautiful walkways, patios, and borders, but they are also instrumental for building breathtaking water features such as natural ponds.  For those homeowners lucky enough to have room for a koi pond or simple waterfall, hardscape materials strike a balance between blending into the environment and being an attractive element family and friends will enjoy for years.  One of the first steps is designing the pond, which means picking out the best materials for your vision.
Sedimentary rocks
Sedimentary rocks formed over billions of years as soil, sand, shells, and other materials compressed under tremendous pressure.  Different types of sedimentary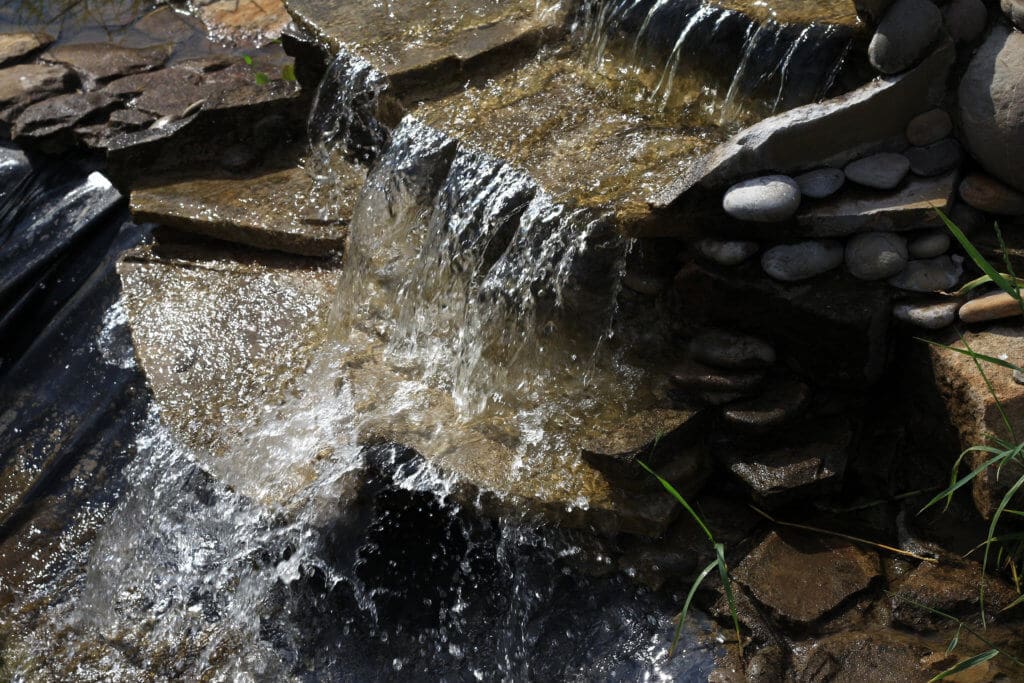 rocks have various levels of stability–some will crack or crumble easily while others are very durable.  Limestone, sandstone, and siltstone are three popular examples commonly used for pond building.  Besides being very attractive, these rocks will also become more rounded and soft over time, particularly in areas of running water or at the base of fountains.  Flagstone is a popular flat, sedimentary rock often used for walkways, patios, or as the top of ledges.
Metamorphic rocks
Metamorphic rocks form deep within the earth as intense heat and pressure create glass-like structures that are incredibly durable.  They are called metamorphic because they start as one type of rock, and then these conditions transform them into a different kind of rock.  For example, under the right conditions, limestone–a sedimentary rock–will turn into marble.  Jade is a beautiful, green metamorphic rock available in large boulders or as filler rock.
Igneous rocks
Finally, igneous rocks are the product of volcanic activity.  The earth acts like a giant smelter to melt rocks and other materials deep in the ground, and eventually, the molten lava rises to the surface, cools, and crystallizes.  The Pacific Northwest is home to an abundance of igneous rocks.  Some rock is very porous and sharp, for example, the lava fields located in Eastern Oregon.  Other igneous rocks are smooth and sharp, like obsidian.  Pumice is a common material used around ponds because of its durability and light colors.  Black cinder and red cinder are two decorative igneous rocks popular for landscaping.
River rocks
River rocks can be sedimentary, metamorphic, or igneous–it all depends on where the river is.  River rocks are stones pulled up or into a river bed.  They are usually smooth and round–a result of tumbling through the river for hundreds of years.  River rocks can be used in many parts of a pond–from lining the border with larger stones to filling small basins and stream beds.
Choosing natural stone for your backyard pond is easy at Hilton Landscape Supply.
Digging into a project like building a backyard pond can seem overwhelming.  Our professional team at Hilton Landscape Supply can help you outline your project and select the best materials to do the job.  You'll find a wide variety of boulders, slabs, and rocks in our inventory to create the perfect oasis for your property.  We'll even deliver your materials right to the worksite.  Visit us today to learn more about the possibilities.