Why Can't I Grow Grass Under Trees?
Southern Oregon is blessed with landscapes filled with evergreen trees and deciduous beauties.  If your yard is lucky enough to have some large trees featured in its design, you may likely find it difficult to grow thick, lush grass underneath their canopies.  Here's why turf is challenging to grow grass under trees and what you can do about it.
Problem 1:  Trees compete with grass for water.
As trees become mature, they develop significant root systems to collect water.  Many evergreens, such as the popular Douglas Fir, have strong taproots, lateral roots,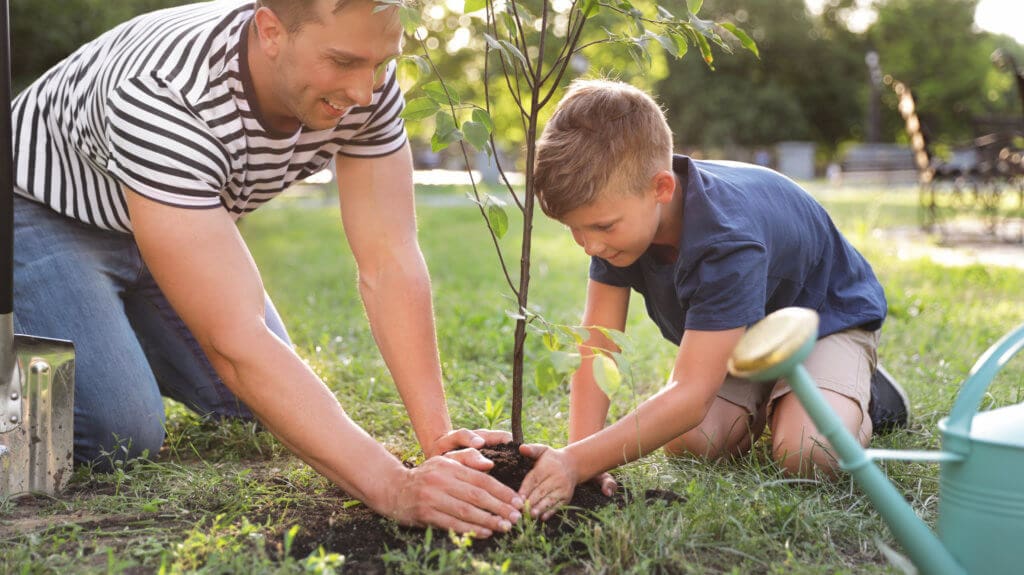 and series of fine roots.  The entire system can reach out 10 feet or more from the base of the tree.  This root system competes with all other plants in the area, including grass, for water, and frequently the tree's complex system wins.  When yards are already struggling for sufficient water during dry and drought seasons, grass under trees is at a disadvantage.
Problem 2:  Tree canopies shade the ground from rainfall.
When you depend on natural rainfall to water your lawn during those seasons, patches of the ground underneath healthy canopies will receive less water.  This means that throughout the winter, they may not have established as much health as other grass during the winter and are not as strong or lush as surrounding turf once spring and summer roll around.
Problem 3:  Tree canopies block out light.
One reason you add trees to your landscape is to create shade, and it's very effective.  However, additional shade can be a double edge sword.  On the one hand, shade may protect the blades from harsh, radiant heat.  On the other hand, too much shade may prevent the grass from getting enough nutrients from the sun.
And one myth:  Do evergreens add too much acid to the soil around them?
No.  Many people believe that grass doesn't grow under evergreen trees because fallen needles add excessive acid to the soil.  Fallen pine needles have a pH ranging between 3.2 and 3.8, while the best pH for growing grass is between 6.5 and 7.0.  In reality, the different pH of the pine needles doesn't change the pH of the soil much at all.  If this is a concern, you can buy an easy-to-administer soil pH test kit at your local hardware or landscaping supply store and apply additional lime to raise the pH if needed.
Fallen needles can hinder grass growth in another way, however.  If the layer of fallen needles is too thick, it will act as a mulch and prevent water and sunlight from reaching the blades.
Solutions
The good news is that there are several easy steps you can take to increase the health of your lawn under trees.
Consider removing the lawn completely under the canopies of trees and replace it with a bed of mulch. This will allow your trees to have the water they need and be healthier in the long run.
Trim the branches to ensure rainfall and water can permeate through the trees and reach the grass underneath.
Raise the mower height underneath trees to give the blades more strength to obtain moisture and light.
Use a nitrogen fertilizer to promote growth in shady conditions.
Rake up pine needles in areas you want the grass to grow and use them as a mulch in non-grass areas or other planting beds.
For expert advice, contact the professionals at Hilton Landscape Supply.
When you need good advice about creating a beautiful, healthy yard, Hilton Landscape Supply is the place to go.  We've been serving Southern Oregon and Northern California since 1956, so we know what works best for growing healthy plants and vegetation in our regions.  Stop by our retail store in Central Point or contact us for more information about all the products we carry to enhance your garden and outdoor living areas.